Schmeck Named Partner at JTaylor
07.01.22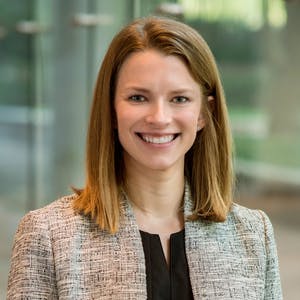 Arielle Schmeck has been named a Partner in the Consulting Services division of JTaylor, Fort Worth's largest independent firm for tax, assurance and advisory services.
Schmeck joined JTaylor's nationally-recognized healthcare services team during 2016 and has provided consulting and valuation services, with a focus on transactions. She particularly enjoys guiding clients through the process of selling their business or developing other exit strategies.
Her fields of expertise include transaction advisory services, due diligence related to mergers and acquisitions, and business valuations. She serves a variety of clients, including large multi-hospital health systems, national physician management companies, free-standing cancer clinics, ambulatory surgery centers and physician practices.
In addition to being a Certified Public Accountant, she has earned two additional professional credentials: Certified Merger & Acquisition Advisor (CM&AA) and Accredited in Business Valuation (ABV). She also is a member of the American Institute of Certified Public Accountants (AICPA). She was honored by the AICPA with a "Standing Ovation" award during 2020 as one of 22 outstanding young CPAs nationally in the valuation field.
"The addition of new partners is one of the most rewarding events we get to experience at our firm," Managing Partner Michael Malloy said. "From the moment Arielle joined our firm, it was clear that she had all the capabilities to become a partner. Arielle has consistently provided stellar service to her clients and done an excellent job developing our firm's considerable young talent base. We are incredibly fortunate to have her on our team and are excited to welcome her into the partner group."
Schmeck graduated from Texas Christian University with a Bachelor of Business Administration and a Masters of Accountancy. Before joining JTaylor, she worked at Ernst & Young in the Audit Practice.
"We are blessed to have Arielle as a new Partner," said Kyle Kirkpatrick, Partner - Director of Consulting Services. "She is a natural leader with great insights and abilities to work collaboratively with our clients in a broad range of financial advisory services."
In the community, Schmeck has been involved with the TCU Consulting and Advisory Professionals Board, the Neeley Fellows Alumni Board and The Women's Center – Young Professionals.
About JTaylor
Founded in 1999, JTaylor is a professional services firm that provides accounting, assurance, consulting and tax services to clients located throughout the United States. It is distinguished from its peers by its high-end technical and strategic capabilities, its national firm caliber clientele and exceptional professional staff. JTaylor is recognized nationally as a leading healthcare consulting firm, dedicated to providing insight and expertise to help clients achieve their goals.